This post is part of a #JASSLearns community "blog hop" in which participants respond to the question, "What does innovation look like in my classroom?"  After reading this post, be sure to click the links to others' posts, and make your way through all of the contributors.
What does innovation look like in my classroom?
There are two ways that I can see to answer this questions: Focusing on students as innovators, or focusing on the teacher (me) as an innovator.  As I learn more about Inquiry, Design Thinking and Project Based Learning, I am doing more to empower students as innovators.  However, I acknowledge that I am still very early in the journey, so I can't really say that I have done much in the way of helping my students innovate. By contrast, I feel that as a teacher I have used my classroom as a "professional innovation playground" since I started teaching.
For me, innovation is about making something new or better. I have always appreciated that one of the best things about the teaching profession is the opportunity to redo and refresh multiple times a year. With every new group of students, we are given a fresh start — a chance to learn from the previous semester and to make it better!
Thinking about innovation in my classroom, I decided to make a sketch to visualize it.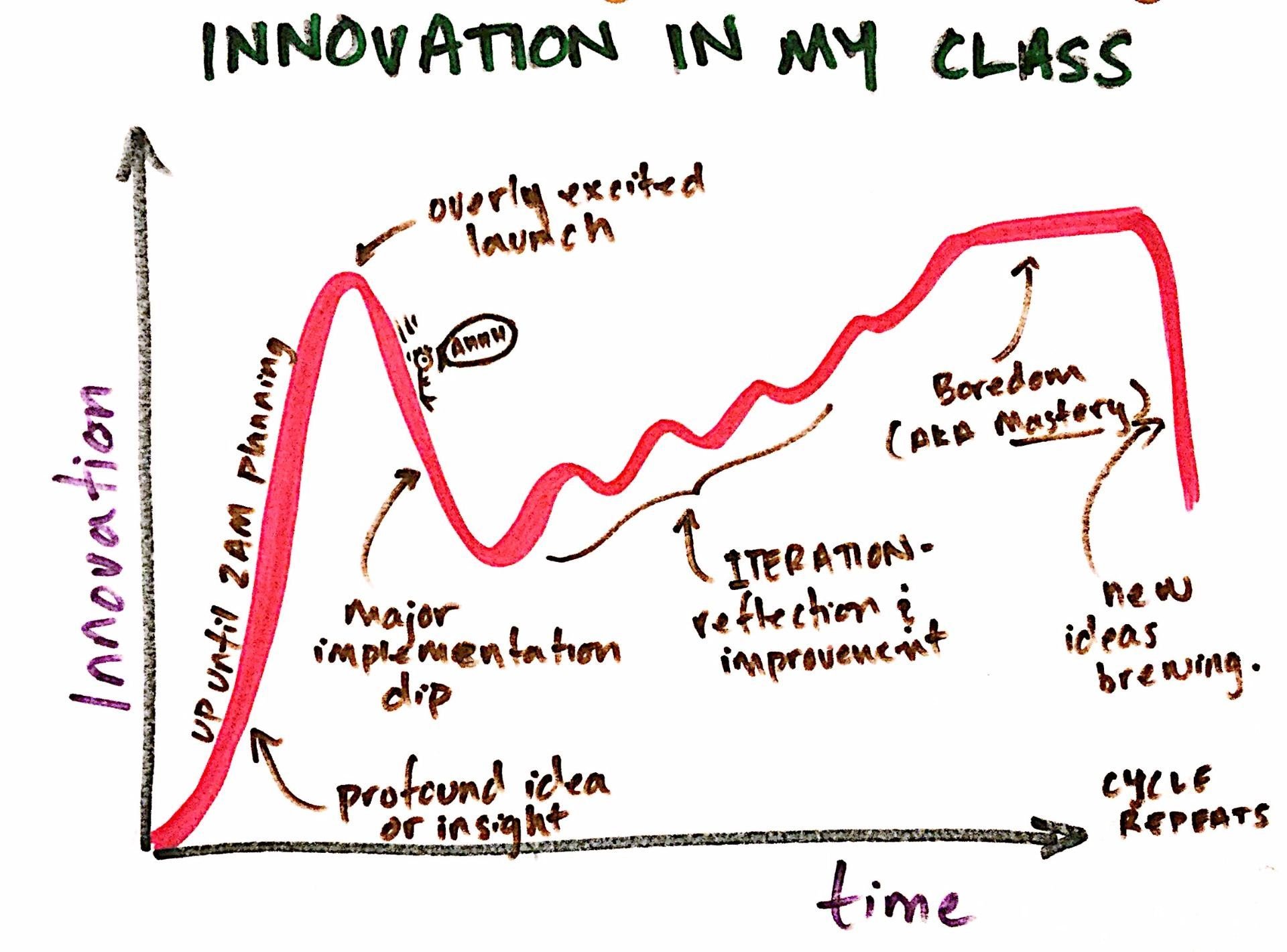 The way I see it, there are 4 main stages:
New idea or insight (which often comes while listening to a podcast, discussing with a colleague, or just reflecting on how I want students to grow), leading up to overly excited launch of a lesson or project.
Major implementation dip — Nothing ever goes as planned, and I have come to expect that the roll out will always fall short of my expectations. While others might call the experiment a fail, I hold steadfast to the vision and try to derive as much learning from the experience as I can so as to improve for the next semester.
Iteration — Over the next few semesters, I reflect and refine the idea. Although the innovations are smaller, they add up to a lot. Over time, the lesson or project has morphed into something better and more robust that I had originally thought.
Mastery (and to some degree, boredom) — After a while, what was once innovative seems normal to me, and as the semesters go by, I change and grow as an educator. Eventually, I find myself putting an old innovation on the back burner, and investing in a new and exciting project.
So, that's how I see innovation working for me. Innovation is a journey defined by a cycle of "Try, Learn, Repeat."
---
Now, pick a blog to jump to next.  Happy hopping!